The mid-size SUV market is heating up and the all new 2020 Hyundai Palisade is here to crank up the heat even more. With advanced safety features, aesthetically pleasing design, smooth ride, spacious interior and an intercom that lets drivers talk to passengers all the way in the back of the vehicle, this SUV is a force to be reckoned with.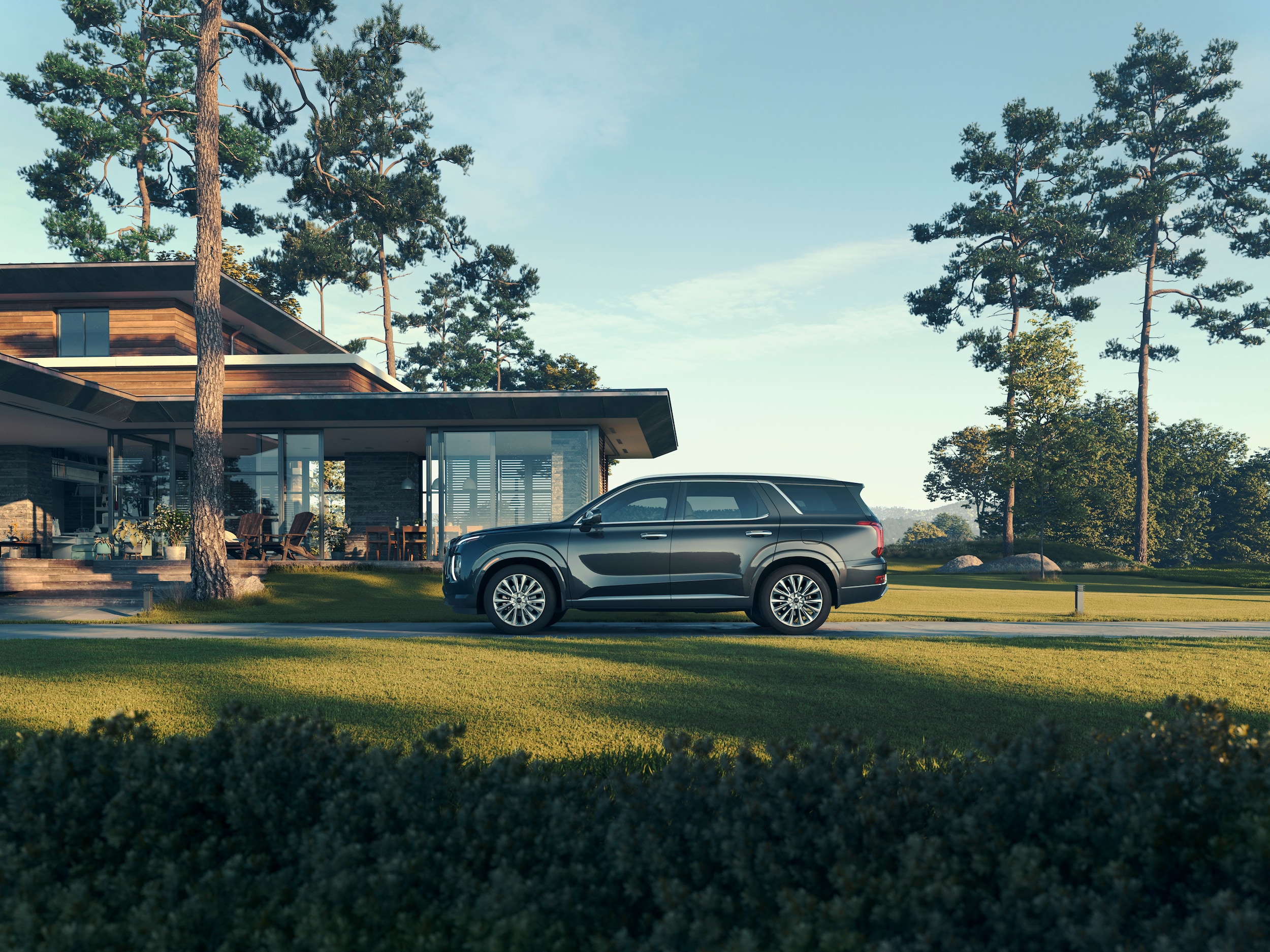 The Hyundai Palisade is powered by a direct-injected 3.8 Liter V-6 Engine paired with an eight speed-automatic transmission, just like it's sibling, the Kia Telluride. It may be big, but it gets moving when you need it to.  This engine is capable of outputting up to 291 horsepower and 262 lb-ft of torque to bring it from 0 to 60 mph in approximately 7.4 seconds.  The Hyundai Palisade allows you to manually shift gears with steering-wheel-mounted paddles unlike it's Kia Telluride sibling. An additional $1700 will even get you all-wheel drive that will provide you with up to 50 percent of total torque in your rear wheels for off-roading or climbing hills. Need to tow? The Palisade has you covered too, it can tow up to 5,000 pounds when properly equipped. That's a whole Hyundai Palisade with some room to spare!
The ride quality and body control on the Hyundai Palisade are virtually unheard of on SUVs in this price range.  The Palisade's suspension does an amazing job at reducing road feedback. The suspension combined with the 2020 Palisade's sound-deadening materials work to deliver a comfortable and quiet ride that makes you feel like you are in a much pricier vehicle. While the precise steering response makes you feel and confident driving the Palisade. You can increase the steering wheel heft and responsiveness even more by instantly engaging the featured sport mode at any-time.
The Palisade had some big shoes to fill by replacing the Santa Fe XL in the Hyundai line-up. Luckily, it does not disappoint, the interior is much larger than the Telluride. Each and every one of the 3 rows on the Palisade provides ample space. The limited trim even comes standard with a power-operated 3rd row and an optional power-operated 3rd row on the SEL models. The limited trim comes with Nappa leather seats. The limited trim even comes with quilted-leather door-panel inserts and a faux suede headliner.
The limited trim comes loaded with heated and ventilated seated in the first and second row.  You even get a 10.3-inch infotainment screen and a 12.3-inch digital instrument cluster that gives it that extra modern edge. You can use the knob on the console to intuitively switch between 4 Drive modes (Comfort, Smart, Sport and Eco).
Advanced safety -features like adaptive cruise control and lane keeping-assist along with a back-up camera of course are even included in the base model. You can check out the limited edition for the 360-degree camera option.
Come down to Keith Hawthorne Hyundai of Gastonia to test drive the all-new Hyundai Palisade and experience the Keith Hawthorne Advantage!