The Hyundai Veloster has had one of the unique designs since it first launched in 2011. The three-door configuration, large headlights, and athletic body-lines have made this model something that stands out among the crowd. After nearly eight-years, the second generation was unveiled last year, with a refined design, loaded interior, and redesigned chassis. The 2020 model continues the success of the second generation, and Keith Hawthorne Hyundai is proud to share it with you.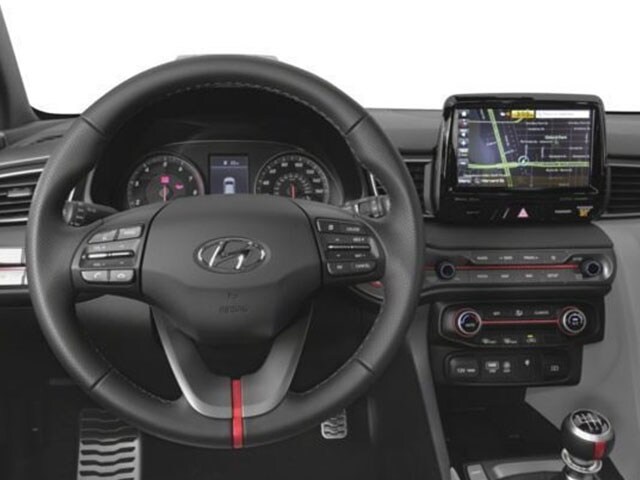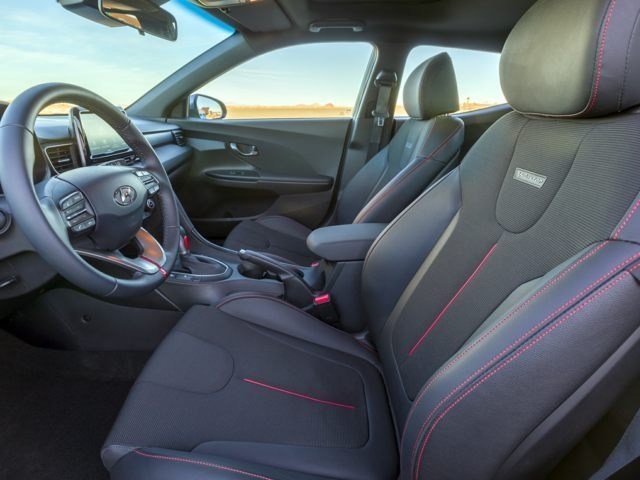 Bringing a New Sense of Refinement to More Drivers
As one of the most uniquely designed hatchbacks around, the 2020 Hyundai Veloster is unlike anything else on the market. Keeping the three-door design has made this model one of the best choices possible. The 2020 model carries over the aesthetic improvements introduced in 2019, including redesigned headlights, a sleeker profile, and an aggressive new front fascia. In addition to the new design, the use of new LED lighting in the front and rear will help to set off this model than you could ever have expected!
Not only does the new design help to make this model a stunning example of the new Hyundai design language, but underneath the body, you will find some new features that will make your comfort more comfortable and polished driving experience. As opposed to the past models, every 2020 Hyundai Veloster will come with a multi-link rear suspension to make any drive more enjoyable. Additionally, in the Turbo-powered models, you will enjoy an exceptional sport-tuned suspension that will make use of Torque Vectoring Control to bring you more control on the road than ever before! Altogether, the design and underpinnings of the 2020 Hyundai Veloster will be more enjoyable to drive when taken on any road.
Ready to Make Your Driving Experience Comfortable and Thrilling
Features and Tech
The Hyundai Veloster has always thrived at being a spunky and fun to drive hatchback for all drivers. The 2020 model continues to embrace that trend with five different trim levels, 2.0, 2.0 Premium, Turbo R-Spec, Turbo, and Turbo Ultimate, as well as the performance model, Veloster N.
In each trim, drivers will enjoy a wide range of features like leather seating, a power driver's seat, heated front seats, smartphone integration, a premium Infinity® audio system, a rearview camera, a heads-up display, a leather-wrapped steering wheel, keyless entry with push-button start. All of these features will bring you the comfort to enjoy driving more than ever.
On the inside, you'll find comfortable accommodations for drivers and passengers, plus several driver-assistance technologies to keep everyone safe. Including: forward collision-avoidance assist with pedestrian detection, blind-spot collision warning, rear cross-traffic warning, lane keep assist, driver attention warning, adaptive cruise control, and rain-sensing wipers<.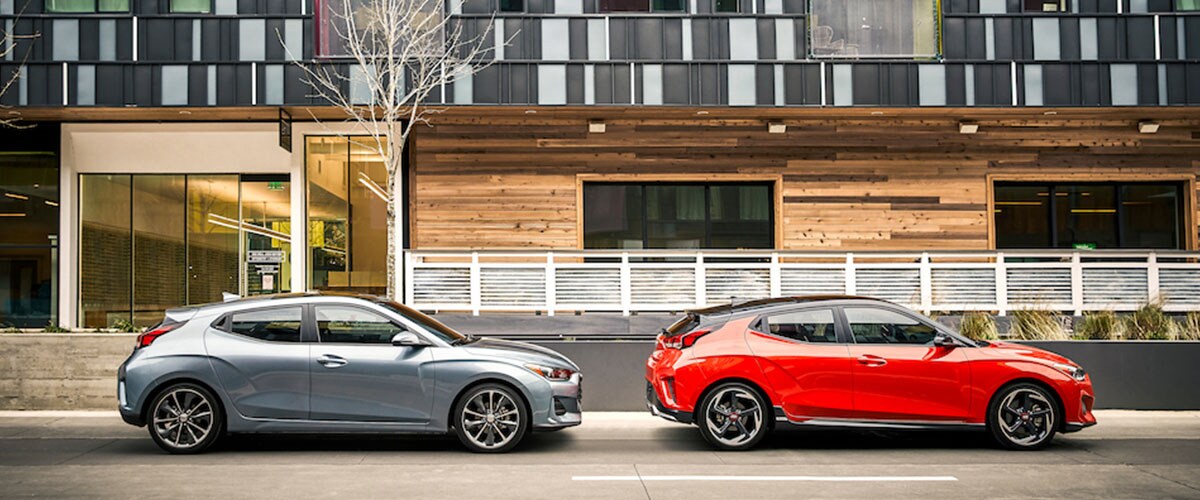 Performance
While the 2020 Hyundai Veloster is plenty comfortable for any driving experience, what really makes this model special is the choice of different engines that will liven up your ride! The first choice available is the 2.0-liter four-cylinder engine that produces 147 horsepower and 132 pound-feet of torque. It's paired with either a six-speed manual or a six-speed automatic transmission.
The second option is the energetic 1.6-liter turbocharged four-cylinder engine that creates 201 horsepower and 195 pound-feet of torque. It's also paired with a six-speed manual transmission or the seven-speed EcoShift® Dual Clutch Transmission. Finally, in the Veloster N trim level, you will find a unique 2.0-liter turbocharged four-cylinder engine (250 horsepower and 260 lb.-ft. of torque), paired exclusively with a six-speed manual transmission and an active sports exhaust. No matter what type of drive you want to experience, the 2020 Hyundai Veloster is ready to impress!
The 2020 Hyundai Veloster is a Truly Spectacular Hatchback
For more information about the Veloster and available trims, features, and finance options, contact Keith Hawthorne Hyundai at your convenience. If you'd like to get behind the wheel and try it for yourself, we invite you to visit us for a test drive. We'll be happy to assist you.