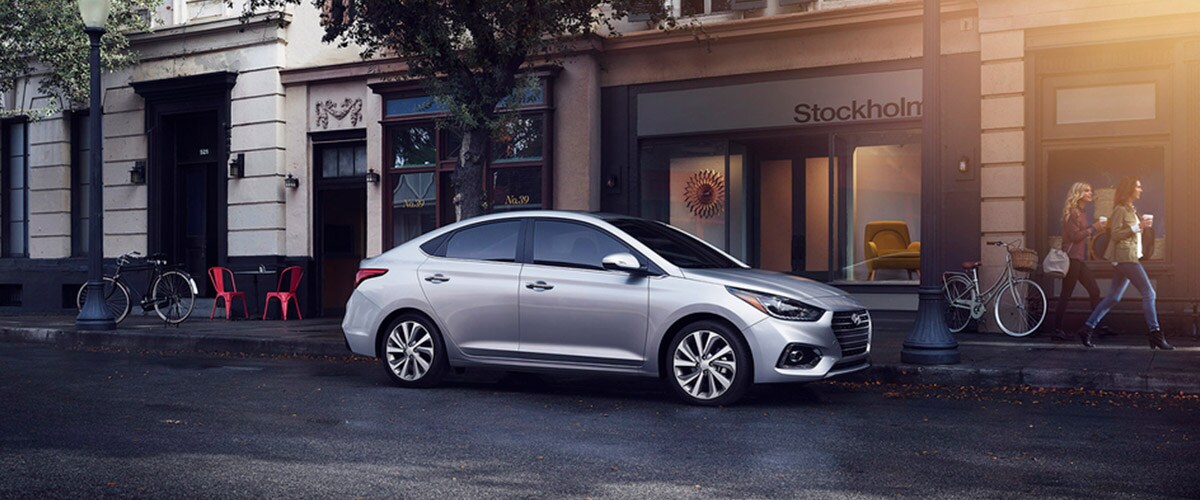 Get Everything You Need with the New Hyundai Accent in Gastonia
Are you looking for a car that's reliable and cost-effective? What about a vehicle that looks great, meets performance expectations, and has user-friendly technology? If so, you're in the right place. The new Hyundai Accent has all of this to offer and so much more!
Whether you need a new car for going to and from work during the week, grocery shopping on the weekend, or driving around Fort Mill, SC to run errands, the Accent will provide everything you need. This is especially the case when you consider the many features available in higher trim levels.
Interior
For a compact sedan, the Hyundai Accent is remarkably roomy. In fact, it seats up to five people and provides a comfortable ride along the way. Let's face it, this isn't always the case with a compact sedan, but the Accent definitely fits the bill when it comes to comfort. While inside of the Accent's cabin, Charlotte drivers will notice the quality materials, which makes a difference in how you experience the vehicle.
The attractive styling also adds to how you feel about the interior of the Accent. How much cargo space do you require? The Accent has 13.7 cubic feet of space in the trunk, which is generally sufficient for transporting numerous grocery bags and several pieces of luggage.
Design
By all accounts, the Hyundai Accent is an attractive vehicle. The front fascia is topped with halogen headlights that have a sleek appearance. It has LED headlights, daytime running lights, and taillights. While the 15-inch wheels are perfectly fine, you can take things up a notch by choosing the Limited trim level to get 17-inch wheels.
You can also enjoy a sunroof with the higher trim level. You can choose from multiple color options, such as Pomegranate Red, Olympus Silver, Frost White Pearl, Absolutely Black, and Admiral Blue, among others. What's great about the color offerings is that you can get any color for any trim level without having to pay extra.
Hyundai Accent Trim Options Near Hickory, NC
Each Hyundai Accent model is desirable. Which one you choose will depend on your specific needs. The following three trim levels are available for the new Hyundai Accent:
What's the difference between the SE and SEL trim levels? For starters, the SE has a six-speed manual transmission, a five-inch touchscreen, Bluetooth®, cloth upholstery, a USB port, a rearview camera, and a four-speaker audio system.
The SEL has a continuously variable automatic transmission, 2 extra USB ports, a bigger seven-inch touchscreen, a six-speaker audio system, Android Auto™, and Apple CarPlay®. Sometimes vehicle touchscreens don't respond as fast as you would like them to, but that's not the case with the Accent. It's quite responsive, which optimizes the overall driving experience.
As the highest trim level, the Limited has a longer list of features that you'll definitely appreciate, including the Hyundai Blue Link system. This is a technology that enables you to unlock, lock, start, and stop your car from your smartphone. It also allows you to get automatic crash notifications and a vehicle health report. Also standard in the Limited model is automatic climate control, forward collision warning, and automatic emergency braking.
Safety Features
Here at Keith Hawthorne Hyundai of Gastonia near Clover, SC, we understand how much driver's value technology, and we believe you will truly love the Limited trim level. It pretty much has everything you need.
One of the most important safety features that you can have on a vehicle is a rearview camera. This happens to be standard in the Accent. Available driver assistance features include automatic emergency braking and forward collision warning.
The new Hyundai Accent has an automatic transmission, front-wheel drive and a 120-horsepower four-cylinder engine that delivers 113 pound-feet of torque. With a 1.6-liter engine, it's easy to handle and quite peppy for a compact sedan. That means you can swiftly get where you need to go.