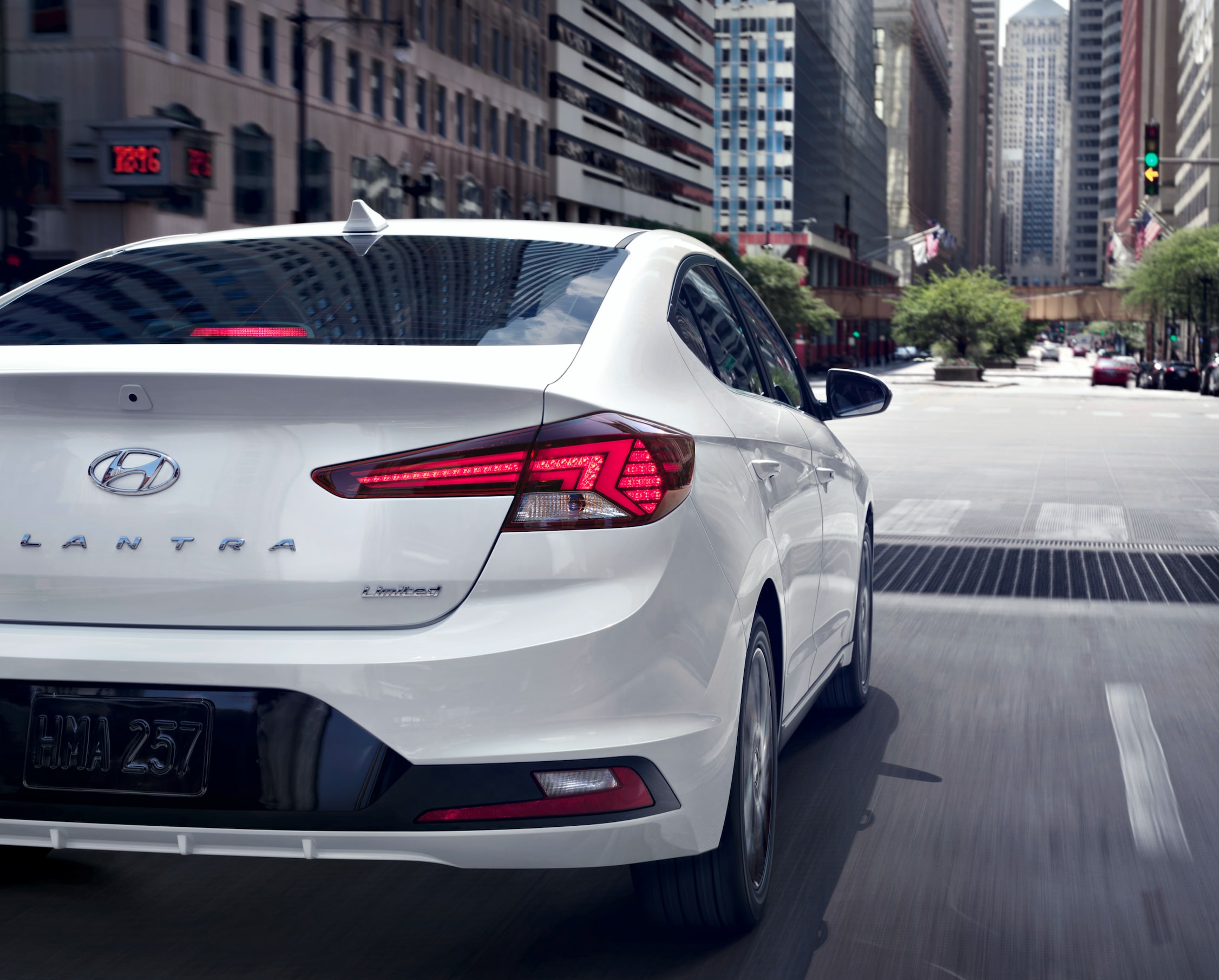 With a new look both inside and out, and economical efficiency that makes sense, the 2019 Hyundai Elantra is the best version yet. Hyundai proves the Elantra's value for another year with an affordable price tag and the fuel efficiency to keep you away from gas stations longer, and now with even better styling thanks to the new sharp edges and a new overall exterior design, the competition can't help but notice. This is style and performance at a bargain, and as always with Hyundai, you get America's best warranty on all new Hyundai Elantra models.
What's new for 2019?
Exterior
With a fully updated front end design in 2019 you'll instantly recognize the design choices Hyundai went with that truly improve the entire look of the new Elantra. Right away you'll notice the new headlights, a widened grille, and an entirely new hood and fenders that give the 2019 Hyundai Elantra a sportier design. In the rear, you'll find the newly designed trunk lid, taillights, and even a new license-plate housing that now sits lower. In all, the 2019 Hyundai Elantra looks like it belongs in a higher class, but with models starting under 20k, this is still a bargain.
Interior
New designs and features find their way into the interior of the 2019 Hyundai Elantra with a bevy of next generation updates that make it feel sleeker and more stylish. An entirely new and redesigned instrument panel is on display in striking fashion and makes the Elantra feel like it's in another class. Additionally, the air vents have been updated with a new look, as well as updated climate and audio controls, and more. Hyundai didn't update aesthetics alone, now standard on all Elantra models, including the SEL, are driver-assistance technology features like Crash-Avoidance and the Driver-Attention Monitor that help keep you and other drivers safer on the road. The base model Elantra also receives a new 5.0-inch entertainment display with Bluetooth and audio controls built into the steering wheel.
Specific Model Details
For 2019 you have 5 different models to choose from, check out all the information on the Elantra lineup here, or find the exact model you love from our online inventory so you can save time at the dealer.
Come on down to your local Hyundai dealer, Keith Hawthorne Hyundai of Gastonia, to test drive your favorite 2019 Hyundai Elantra today and experience the Keith Hawthorne Advantage.